Membership Has Its Privileges…
…and in this case, membership has its opportunities!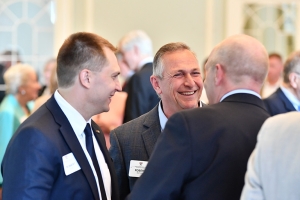 The HBS Club of Northeastern Ohio invites you to participate in the club by joining at any one of our membership levels:
Regular Member
Recent Graduate
Deferred Admit
Patron Member
Patron Plus
Platinum Patron (Lifetime Member)
Membership in the HBS Club of Northeastern Ohio provides:
Access to the calendar of events
An opportunity to reconnect with alumni in dynamic settings
Opportunities to develop, reignite & strengthen your personal and professional network
Access to discounted pricing for cases, HBR articles, and HBP books
Opportunities to volunteer in your community while strengthening the alumni network here in NE Ohio
Updates on the latest business issues and events happening in our community
Lifelong learning opportunities to foster professional development and contribute to the school's mission of educating leaders who will make a difference in society
Opportunities to meet local, regional and, sometimes, global community and business leaders to share perspectives, goals, and experiences
Opportunities to mentor new arrivals and recent grads
Networking opportunities to share, listen, learn and have fun!
Please fill out the membership form to join the club today!