Evening Event: Conversation with Mark DeLuzio: "FLATLINED: Why Lean Transformations Fail"
October 28, 2020
Location: Zoom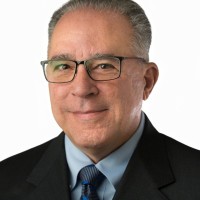 Join HBS NEO for a conversation with Mark DeLuzio, CMA, CPIM – President and CEO – Lean Horizons Consulting, LLC: "FLATLINED: Why Lean Transformations Fail"
About the presenter: Mark DeLuzio is founder and Chief Executive Officer of Lean Horizons Consulting, LLC  He is a former  Vice President of Danaher Business System (DBS) for Danaher Corporation , where he was the principal architect of DBS, deploying it on a global basis. Mark was selected by Danaher to be on the first study mission to Japan, studying under the original developers of the Toyota Production System. DBS has been credited by Wall Street as a key element to Danaher's success.  Danaher has been recognized as the leading implementer of Lean globally and has been rated as the 3rd most profitable US stock over the last 30 years. Mark is also credited with developing the first Lean Accounting process in the United States for Danaher's Jake Brake Division.  He is recognized as a pioneer in this area and is known as one of the "Fab 5" in the Lean Accounting community.
Mr. DeLuzio in 2007 was inducted as a Life Member of the Shingo Prize Academy (Lean Hall of Fame) for his lifetime contribution to "Excellence in Manufacturing."
Having had two sons who fought in combat in the Middle East, Mark unfortunately became a Gold Star Father in 2010 when his son Steven (age 25) was killed in action fighting in Afghanistan.  Carrying on both of his sons' contributions to our country, Mark was inspired to help Veterans (at no fee) wishing to start a business or needing career advice.  His organization is called B.R.A.V.E. (Business Reviews and Advisors to Veteran Entrepreneurs).  www.4thebrave.org
Through his B.R.A.V.E. organization, Mark has co-produced  "On the Hill"  which addresses the topic of Veteran suicide and Veteran PTSD.
Mr. DeLuzio is an alum of Central Connecticut State University, earned an MBA from the  University of Hartford,  is currently pursuing his Ph.D.  And has authored two books—"Turn Waste into Wealth" and  "Flatlined—Why Companies Fail at Lean and What to do About it."
Reservations
Patrons: $0
Members and Spouses: $0
Non-Members: $15
See all upcoming events.
https://www.hbs-neo.org/wp-content/uploads/hbs-logo.jpg
0
0
Lauren Smigelski
https://www.hbs-neo.org/wp-content/uploads/hbs-logo.jpg
Lauren Smigelski
2020-09-30 14:57:09
2020-10-21 16:59:01
Conversation with Mark DeLuzio: "FLATLINED: Why Lean Transformations Fail"