Evening Event: An Evening with Sweet Designs Chocolatier: Ines Rehner
June 30, 2021
Location: Zoom
Celebrate Life with Chocolate! Join HBS NEO for an evening with Founder and Master Chocolatier from Sweet Designs!
RSVP early and chocolates will be delivered to your residence that you can enjoy while you meet Ines and watch the demonstration.
Ines Rehner – My Story (so far)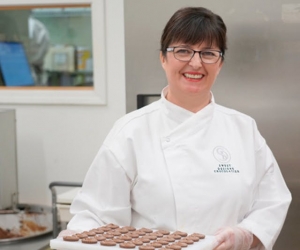 Chocolate has been my favorite food for as long as I can remember. Growing up in former Yugoslavia, now Croatia, chocolate was a luxury. My sweet tooth came from my father, who always had candy hidden in his car. I would search and search until I found all of the chocolate.
In 1987, I visited New York City and immediately knew I wanted to live in this country. The opportunities seemed endless. I returned home to finish college but all I kept thinking about was how to return to a place where I could actually have my own chocolate store. By age 24 I had saved enough to fly to America. I started working at a candy store in New York that resold chocolates and candies, but I always knew that the chocolates could taste better. I began experimenting at home and just kept working until I developed my unique blend. I wanted to make great chocolate.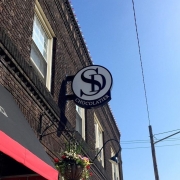 In December 1995, Sweet Designs Chocolatier opened in a small corner store in Lakewood and I continued to perfect my recipes for chocolate. We now offer over 80 different chocolates, from truffles and hand-dipped fruit to nut clusters and caramels. My chocolates are out of this world…literally! They have actually been enjoyed in space by NASA astronauts on the Space Shuttle.
After 10 years of making chocolate, I needed a larger location so I designed my own European Chocolaterie at a new location in Lakewood. Few things give you the pure enjoyment of great chocolate. The wonderful aroma, the smooth rich texture, and the incomparable taste all combine to make great chocolate one of life's truly satisfying experiences. I hope that you enjoy eating my chocolates as much as I enjoy making them!
Schedule
7:00 pm – Demonstration and Discussion
Reservations
Patrons: $0
Members and Spouses: $15
Non-Members: $15
See all upcoming events.
https://www.hbs-neo.org/wp-content/uploads/hbs-logo.jpg
0
0
Lauren Smigelski
https://www.hbs-neo.org/wp-content/uploads/hbs-logo.jpg
Lauren Smigelski
2021-06-21 11:23:17
2021-06-21 11:23:17
An Evening with Sweet Designs Chocolatier: Ines Rehner