Evening Event: Conversation with Tom Mihaljevic, CEO, Cleveland Clinic
November 10, 2020
Location: Zoom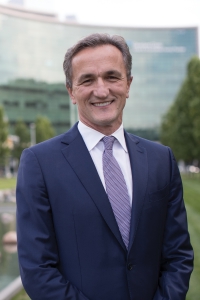 Join HBS NEO for a conversation with Tom Mihaljevic GMP 15, CEO, Cleveland Clinic 
Cleveland Clinic, a non-profit academic medical center, provides clinical and hospital care and is a leader in research, education and health information. Cleveland Clinic has pioneered many medical breakthroughs including coronary artery bypass surgery and the first face transplant in the United States.  U.S. News & World Report consistently names Cleveland Clinic as one of the nation's best hospitals in its annual "America's Best Hospitals" survey.
Tom Mihaljevic, MD, as CEO & President of Cleveland Clinic, is leading an $8 billion healthcare system that includes a main campus in Cleveland, 10 regional hospitals, 18 family health centers and facilities in Florida, Nevada, Toronto, Abu Dhabi and London. From 2010 to 2015, Dr. Mihaljevic was chief of staff and chairman of the Heart, Vascular & Thoracic Institute in Abu Dhabi. He joined Cleveland Clinic in 2004 as a surgeon in the Department of Thoracic and Cardiovascular Surgery. Prior to joining  the Clinic Tom was director of the Cardiac Surgery Research Laboratory at Brigham and Women's, held a seven-year academic appointment to Harvard Medical School as a Clincal Fellow and was assistant professor of surgery at Harvard Medical School. He earned his medical degree from University of Zagreb,  trained in cardiac surgery at the University of Zurich and  in 2013 completed the GMP Exec. Ed. Program at HBS. His career has focused on minimally invasive approaches to a variety of cardiac issues and in 2005 he received a patent for a novel system for minimally invasive cardiac surgery.
Please plan to join us for this unique opportunity!
Schedule
5:00-6:00pm ET
Reservations
Patrons: $0
Members and Spouses: $0
Non-Members: $10
See all upcoming events.
https://www.hbs-neo.org/wp-content/uploads/hbs-logo.jpg
0
0
Lauren Smigelski
https://www.hbs-neo.org/wp-content/uploads/hbs-logo.jpg
Lauren Smigelski
2020-09-30 15:00:47
2020-11-02 15:51:00
Conversation with Tom Mihaljevic, CEO, Cleveland Clinic